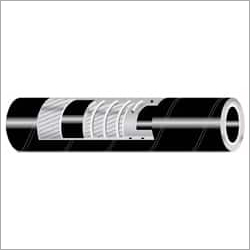 Petrochemical Hoses
Product Code : Petrochemical Hoses
Product Description
Petrochemical Hoses
are ideal for chemical plants, tank truck services, ships and other general industrial applications. These hoses are manufactured by utilizing black colored smooth heatproof cover of synthetic rubber material and braided construction to ensure excellent flexibility. Also, our offered hoses are resistant to kinking and crushing. These hoses are perfect for handling many chemical products such as acids, alkalis, esters and ketones. Additionally, our provided
Petrochemical Hoses
can withstand extreme temperature.

Key features:
Highly conductive
Known for petrol transferring purpose
Cost efficient nature
Petrochemical Hoses
are ideal for chemical plants, tank truck services, ships and other general industrial applications. These hoses are manufactured by utilizing black colored smooth heatproof cover of synthetic rubber material and braided construction to ensure excellent flexibility. Also, our offered hoses are resistant to kinking and crushing. These hoses are perfect for handling many chemical products such as acids, alkalis, esters and ketones. Additionally, our provided
Petrochemical Hoses
can withstand extreme temperature.

Key features:
Highly conductive
Known for petrol transferring purpose
Cost efficient nature